Mass in Los Angeles to celebrate canonization of Pope Paul VI, Archbishop Oscar Romero
BBC News (0) Status: Unverified
Olympic champion Tommie Smith speaks to Rajeev Gupta about how his Christian faith inspired his iconic fist-raised protest on the podium at the Mexico City Games, 50 years ago.
Newsday Scanner (0) Status: Unverified
Wilfredo Vasquez was 4 years old when his family fled El Salvador's brutal military and "death squads" because his parents — religious teachers in the Roman Catholic Church — were a likely target.
Newsday Scanner (0) Status: Unverified
On Sunday, the Wyandanch resident will celebrate the canonization of the priest who most famously stood up to the repression and called on the soldiers and Salvadoran government to stop: Archbishop Oscar Romero, who at a ceremony in Rome will be made the first saint from El Salvador.
Newsday Scanner (0) Status: Unverified
Romero, known as the "voice of the voiceless," was killed for defending the poor and denouncing the violence leading to El Salvador's bloody 1980-1992 civil war, which left 75,000 people dead.
Newsday Scanner (0) Status: Unverified
Romero "was greatly opposed by the government and by the U.S. embassy and also the rest of the bishops weren't too happy" with some of the things he did, such as opening church properties to thousands of people afraid for their lives, said the Rev. William Brisotti, a priest on Long Island who spent months working with displaced people in El Salvador during the war.
Newsday Scanner (0) Status: Unverified
On Sunday, he will participate in a Mass at Our Lady of the Miraculous Medal Roman Catholic Church in Wyandanch, during which a musical group will sing some of Romero's favorite songs from El Salvador's countryside.
ABC7Chicago Scanner (0) Status: Unverified
The embroidered banner-portraits of the seven people Pope Francis will proclaim saints already hang on the faade of Saint Peter's Basilica ahead of the solemn ceremony Sunday.The new tombstone and mosaic portrait of one of them, Pope Paul VI, the somber, timid pope of the turbulent 60s, is already in place in the crypt of St. Peter's with his title changed from "Beatus" (blessed) to "Sanctus" (saint) above his name.Among those who will be canonized Sunday with Pope Paul are four religious figures: Mother Catherine Kasper, the German founder of a religious congregation; Nazaria Ignacia March Mesa, the Spanish founder of another order; and two Italian priests, Father Francesco Spinelli and Father Vincenzo Romano.Added to the list in July, after the ceremony had already been announced, is a teenager, Blessed Nunzio Sulprizio, who died in Naples in 1836 at the age of 19 after a life of pain and suffering.
ABC7Chicago Scanner (0) Status: Unverified
This high church ceremony is taking place during the month-long synod of bishops in the Vatican, which has gathered over 200 bishops, including about 50 cardinals, and nearly 40 young people to discuss youth, faith and vocations.Sulprizio was beatified - the first step to sainthood - by Pope Paul VI in 1963, and they will both become saints in the same ceremony.But the focus of many attending the ceremony will be on Archbishop Oscar Romero of El Salvador, who was murdered in March 1980 while celebrating mass in his church.
ABC7Chicago Scanner (0) Status: Unverified
A crowd of more than 100,000 people were attending Romero's funeral when the military fired on the crowd, killing dozens of mourners.Romero's sainthood cause, which was started in 1997, had been blocked for years during the papacies of Popes John Paul II and Benedict XVI by the Roman curia and South American cardinals for political and theological reasons.Francis, the first Pope from the Americas, formally decreed in 2015 that Romero had been assassinated as a martyr and Romero was beatified in San Salvador in May of that year.
ABC7Chicago Scanner (0) Status: Unverified
Recognizing Romero as a martyr-saint will probably lead to the canonization of other murdered Latin American bishops including Enrique Angelelli, assassinated in 1976 during Argentina's military dictatorship.Both Pope Paul and Romero are very significant figures for the present Pontiff and Pope Paul VI was the pope during Romero's life.
ABC7Chicago Scanner (0) Status: Unverified
He was also Pope during Francis' youth and that of many of the older bishops and cardinals gathered in the Vatican for the synod.Pope Paul VI is mainly remembered as the Pope who closed the Second Vatican Council in 1965, followed through with the reforms of the Catholic church and for his encyclical Humanae Vitae, published in 1968, which spelled out the Catholic position on birth control .
AP News (0) Status: Unverified
Slain Roman Catholic Archbishop Oscar Romero to officially become a saint on Sunday, but many in El Salvador already considered him that for years.
nytimesworld News (0) Status: Unverified
Archbishop Óscar Romero, the Salvadoran church leader killed in 1980, will be named a saint by Pope Francis on Sunday. Many Salvadorans already consider him one.
NPR News (0) Status: Unverified
This Sunday, 38 years after his assassination, Archbishop Óscar Romero will be canonized as a Catholic saint. He was a champion of human rights at a time when El Salvador was on the brink of civil war.
AFP News (0) Status: Unverified
We felt alone, because there was a time when nobody remembered him - 38 years after Archbishop Oscar Romero was shot dead in El Salvador, his brother will travel to St Peters Square to witness his canonization
KenRoth Scanner (0) Status: Unverified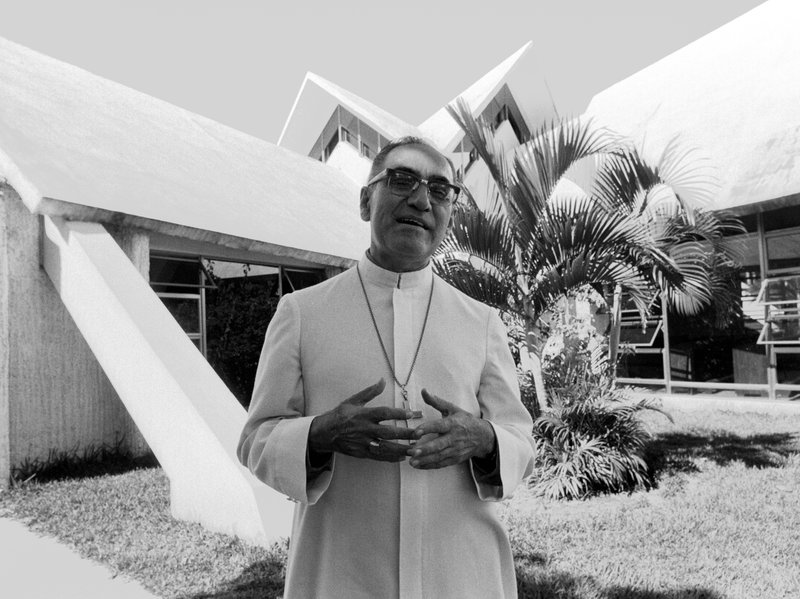 The 1980 assassination of Archbishop Oscar Romero by a right-wing death squad marked a horrible low in the Salvador civil war. On Sunday, he will be canonized as a saint.
CatholicRelief Scanner (0) Status: Unverified
Tomorrow, Blessed #OscarRomero will be canonized a saint. Let us celebrate his life and reflect on what his witness means for our lives today. For more:
WOLA_org Scanner (0) Status: Unverified
On Sunday, Salvadoran Archbishop Oscar Romero—killed in 1980 after fiercely criticizing wartime military abuses—is canonized as a saint. What progress has El Salvador made on the #HumanRights front since then? We offer an overview of major ongoing cases:
EWTNNewsNightly Scanner (0) Status: Unverified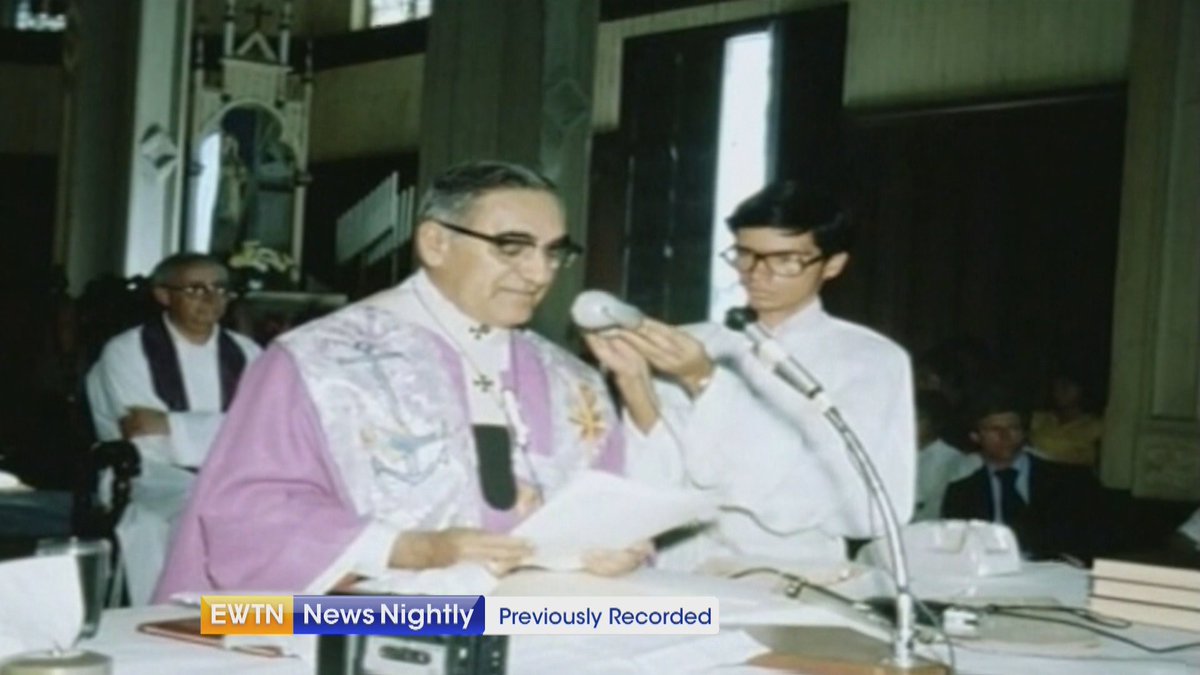 Archbishop Oscar Romero was martyred in 1980 in his native El Salvador. On Sunday he will be canonized a saint. We take a closer look at his life and why he remains so revered in El Salvador and around the world:
ctrlamb Scanner (0) Status: Unverified

Lord (Rowan) Williams, former Archbishop of Canterbury, will be present at the canonisation of Oscar Romero in #StPeter's tomorrow (representing @JustinWelby). Lord Williams has a devotion to Romero and the Anglican Church has already declared the Salvadoran archbishop a saint